Working with rooms
Rooms are used to make work sheets available for download via link sharing.
If you have compiled and produced your own worksheets, you will usually want to make them available to other people, such as students.
Of course you can do this via email or in a forum provided by a school, for example. We also offer this possibility on this platform. This is comfortable for you, because you don't have to download the worksheets and upload them again on another platform.
Logging in
Since rooms are used to offer worksheets for download, you should create the corresponding worksheets before you create a room. If you would like to follow this tutorial, your Worksheet storage should contain some freshly created worksheets.
If you would like to know how to put together a worksheet, we have described the relevant steps in this guide.
Go to the home page and log in with your username and password. You will then be taken to the home page, which looks something like this.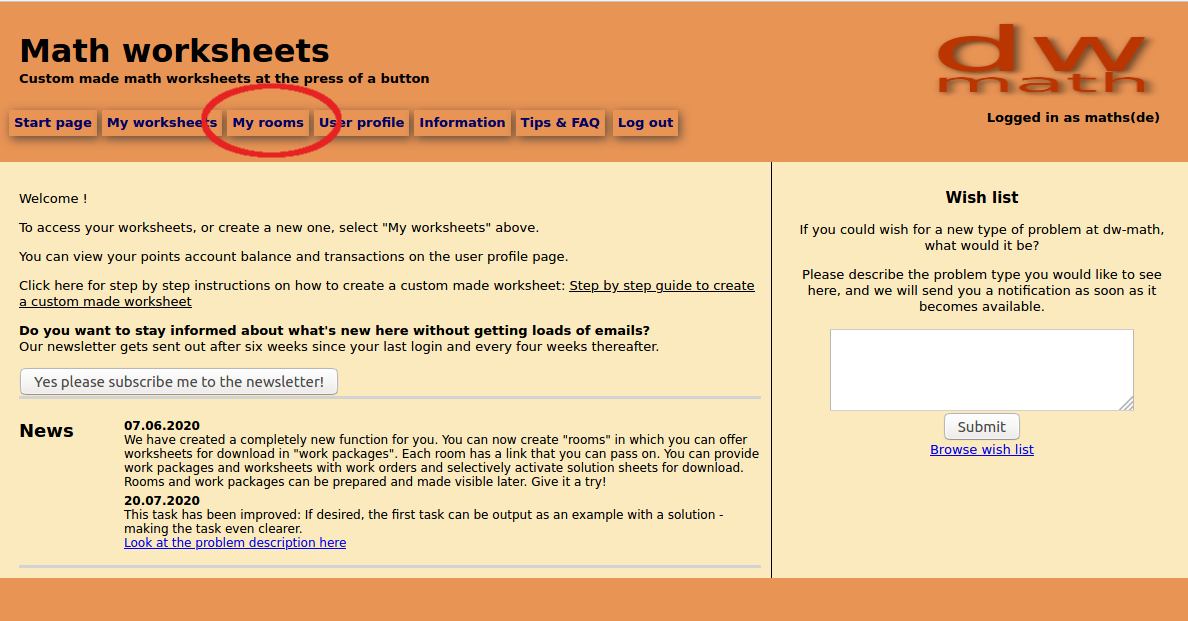 In the upper menu, select the items "My rooms" from the menu bar.
Creating a room
If you have already created rooms, this takes you to the room list. If you have not yet created a room, as in this case, you receive an empty list with the offer to create a room.If you have already created rooms, this takes you to the room list. If you have not yet created a room, as in this case, you receive an empty list with the opportunity to create a room.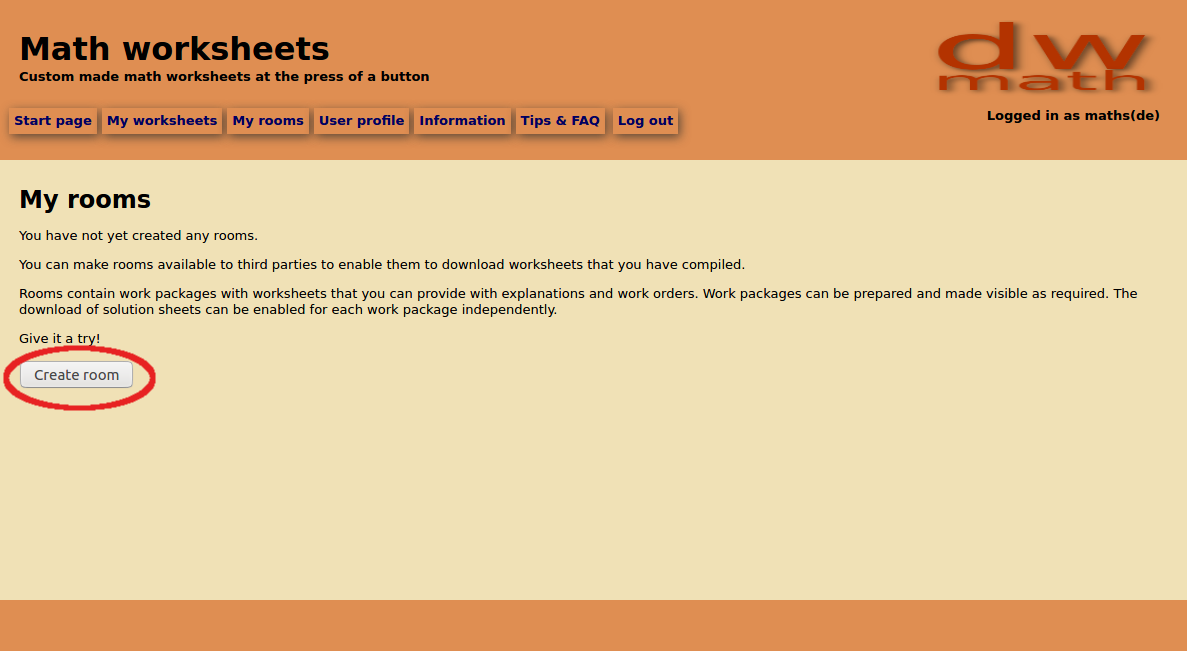 Now click on "Create room".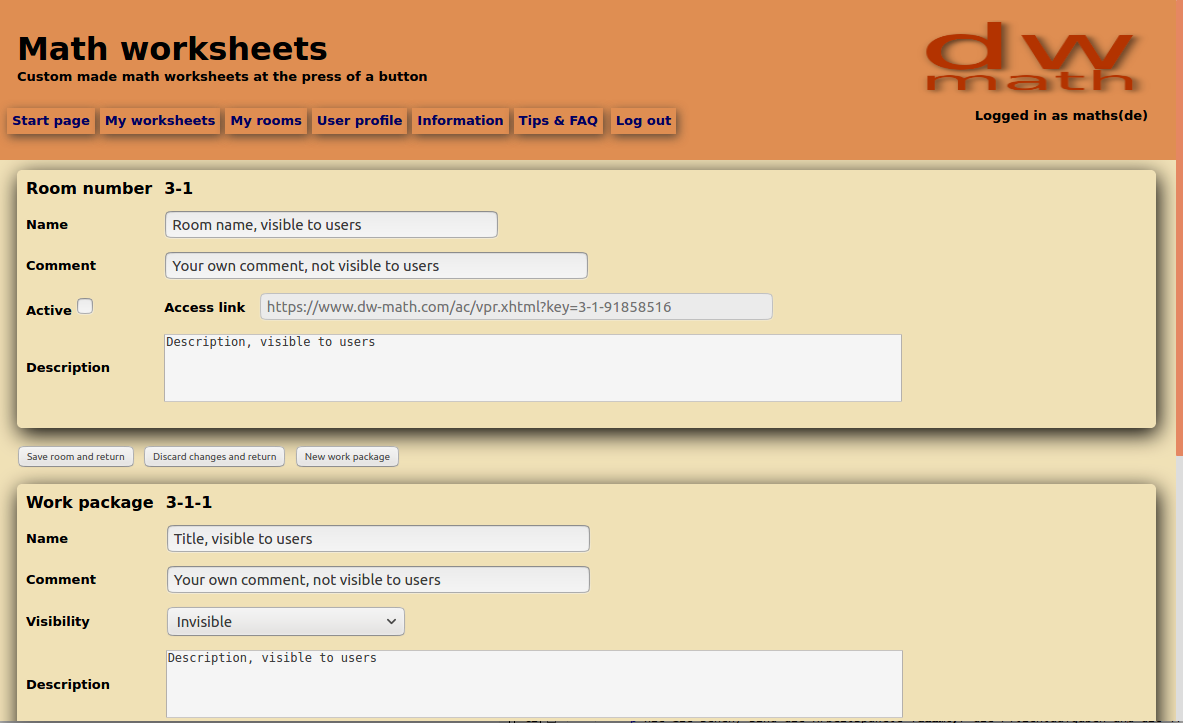 The room you have just created has been given a number, in this case 3-1, and each room can contain several work packages - and the work packages then contain the worksheets that are offered for download. Each new room comes with an initial work package. This work package has the number 3-2-1.
If you look further down the page, at the very bottom of the page, after the work packages, you will find a list of the generated worksheets that are available in your storage. Newly created worksheets are kept here for some time, so that you can download them again - or use them in rooms for your work packages!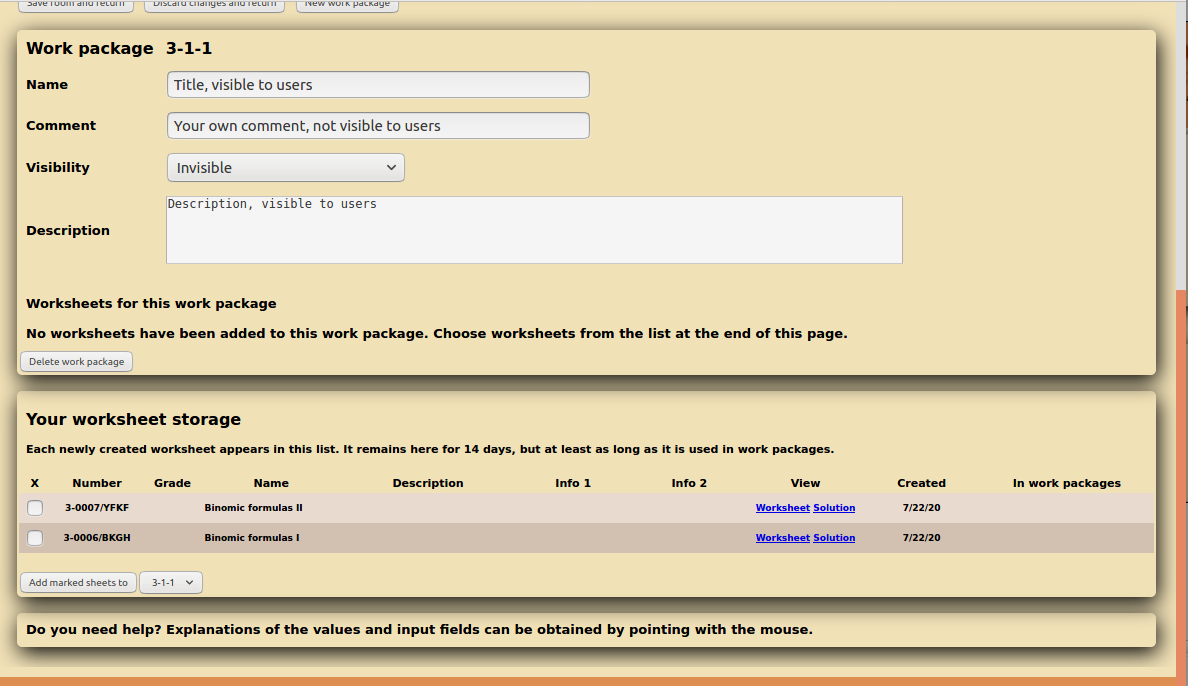 Adding a worksheet to a work package
Below the worksheet list there is a button with which worksheets can be assigned to a work package.
To do this, they must first be marked...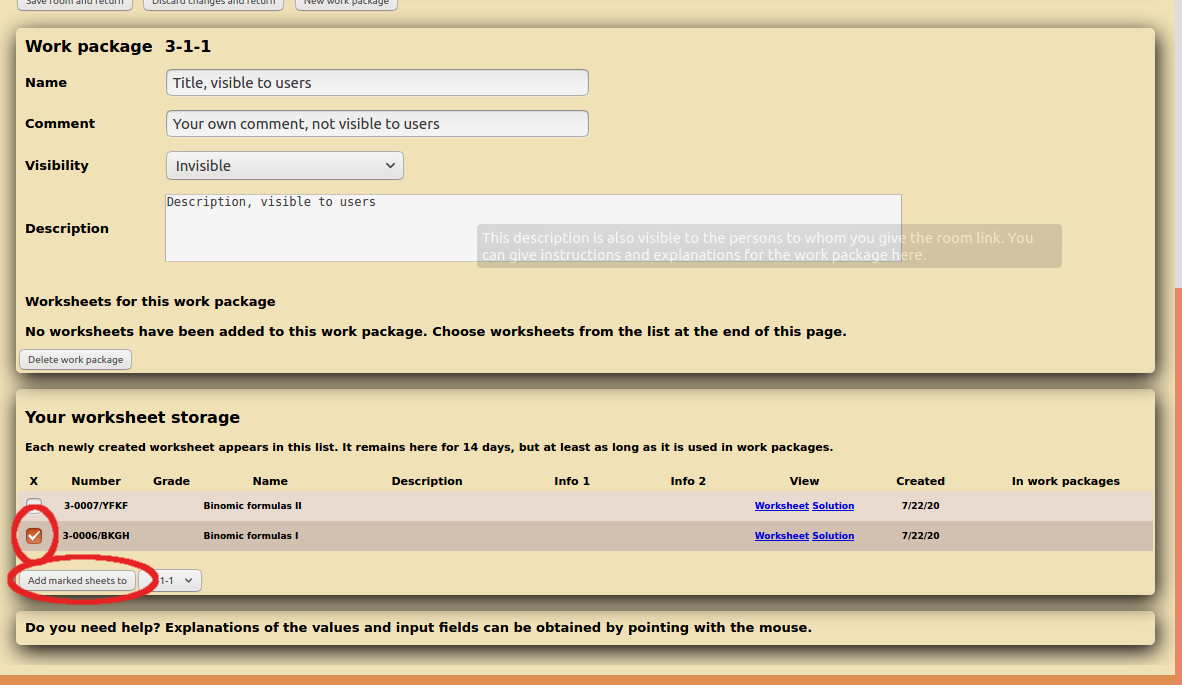 ...and then by pressing "Add selected sheets to" add them to the work package selected in the adjacent selection box.
The result can be seen here: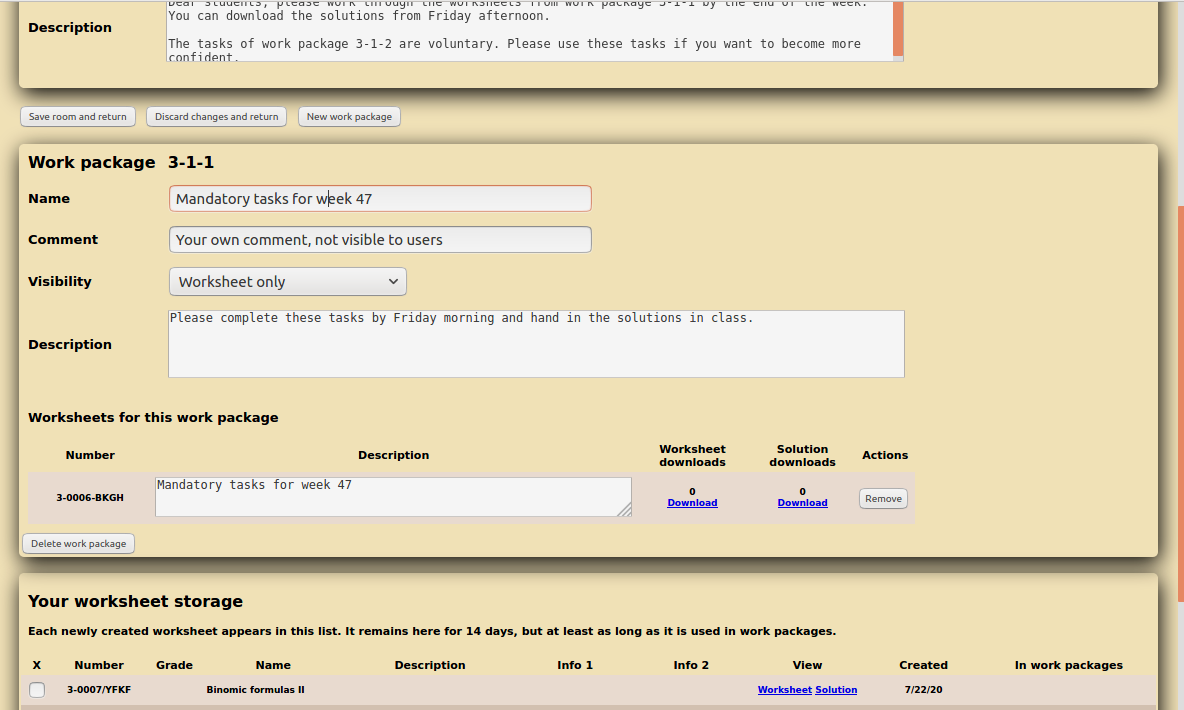 The worksheet can be provided with a comment in the work package.
Add another work package
With the button "New work package" right on the top of the room page you can add another work package.
Try it out! Then add worksheet 3-0007/YFKF as an exercise.
If you enter some more descriptive text, the result could soon look like this:
Top area of room page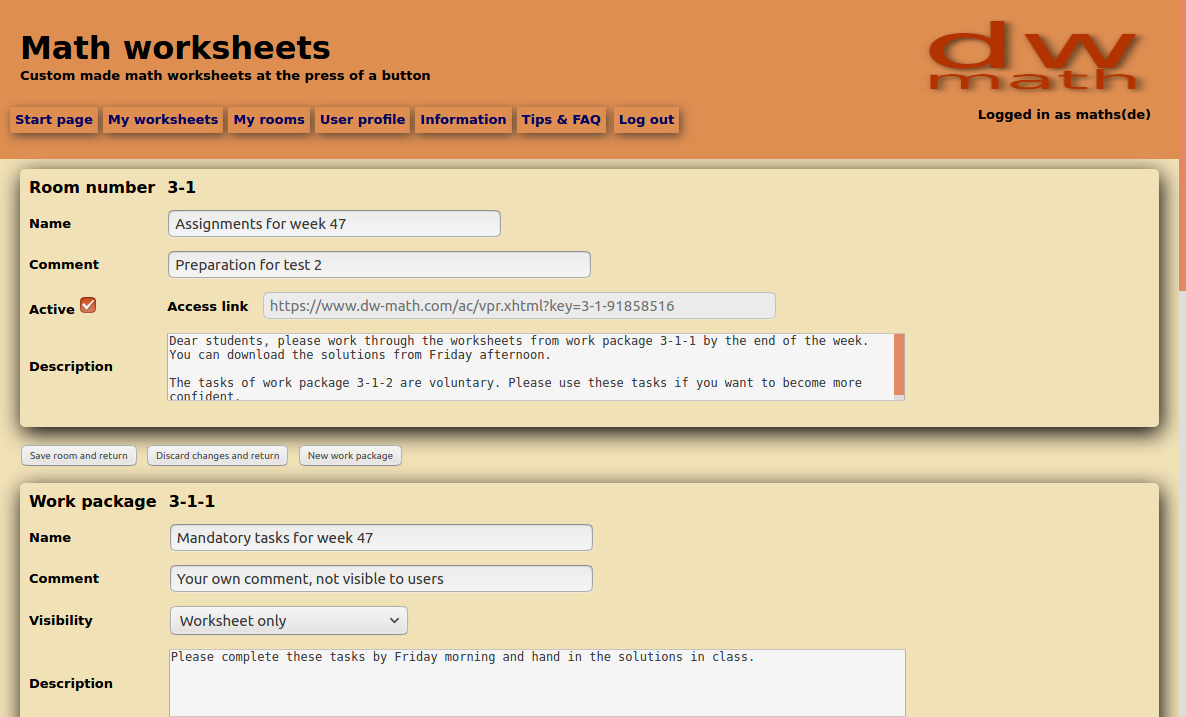 Bottom area of room page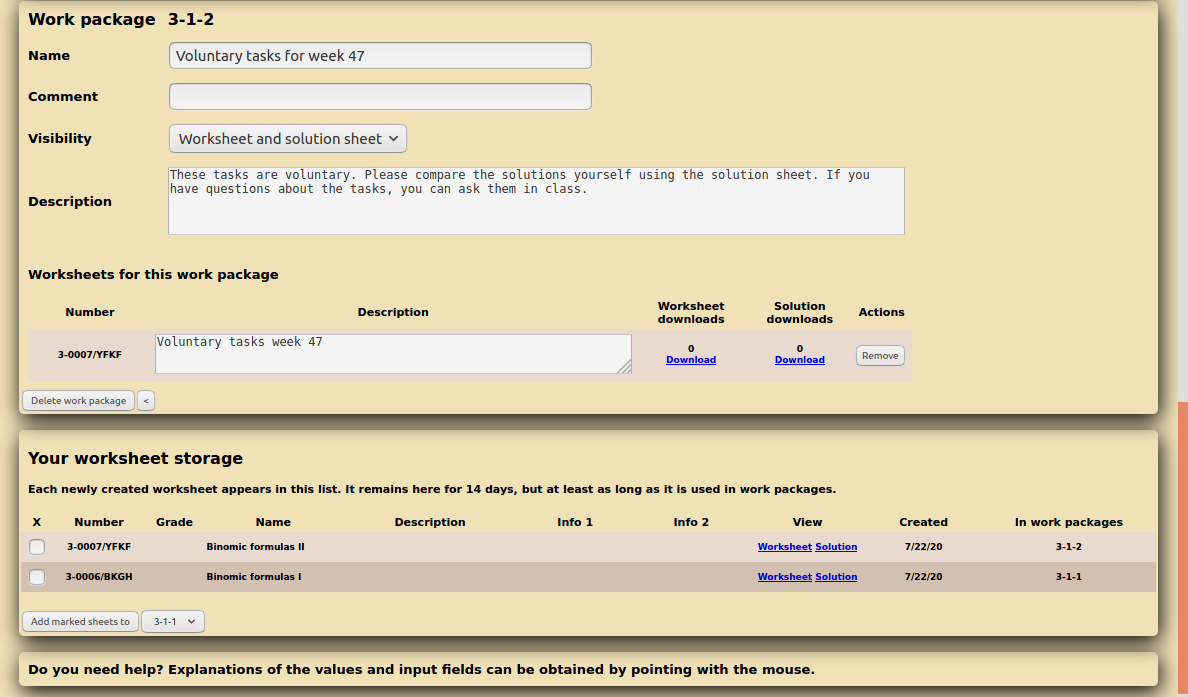 As you can see, the work packages for the mandatory tasks and the voluntary tasks are set up differently. While in the work package for the voluntary tasks both problem and solution sheets are available for download, for the mandatory tasks only the tasks are available. However, in the description of the room it has already been announced that the solutions will also be available from Friday.
Link sharing
After you have created and saved the room, it will appear in your list.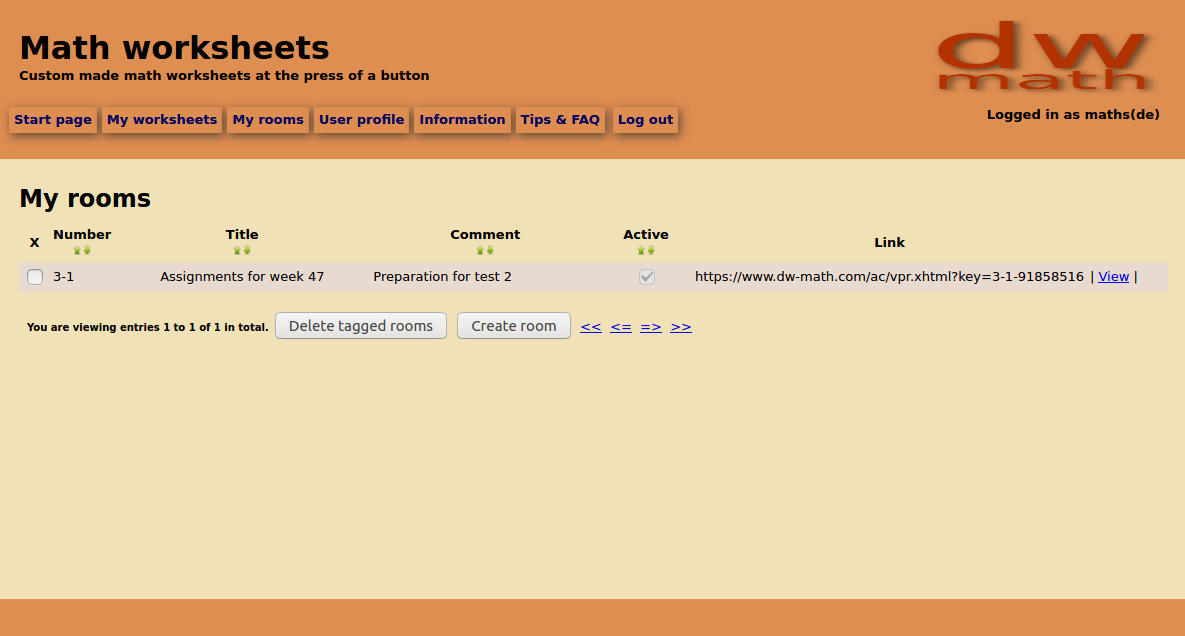 If the room is activated by checking the corresponding box, the content can be accessed via the link.
Registration with dw-math is not necessary for this.

To do this, mark the link, press the right mouse button and choose "Copy" or press CTRL-C. The link copied in this way can be inserted into an email or a forum post.
Good luck!